best quality mamra almond type in Asia
Best quality mamra almond type in Asia
The most relevant statistics are the export of mamra almonds to India and other countries, not much is done on the export of mamra almonds. Of course, by marketing and educating about the delicious properties and flavors of mamra almonds, people in these countries can be led to buy mamra almonds in bulk. Most of the mamra almond production is associated with the Chaharmahal and Bakhtiari provinces and the city of Saman. You can find more information about the mamra almond type on Zarin Maghz Company's website.
mamra almond type features
Buying and selling Mamra Badam in our company is satisfied due to its many years of experience with customers. The export of Iranian almonds, especially Mamra Badam and its grains, is very important to Iranian almond producers and exporters. Mamra Badam has different qualities. Because of the high export value of the Mamra Badam kernel, a formula has been included for its classification.
The classification of Mamra Badam depends on the number of Mamra Badam kernels per 100 grams.
Mamra Badam brain types are as follows:

80 seeds (AAAAA)
90 seeds (AAAA)
100 grains (AAA)
110 grains (AA)
120 seeds (A)
130 seeds (ES)
140 and higher (mini)
Our company Mamra Badam Kernel, although it can offer any type of Mamra Badam for you almond sellers, we recommend you offer your customers from AA grade to Mimi. The price of Mamra Badam is higher than other almonds such as stone almonds due to its high quality. Mamra Badam has a high export and demand rate and is exported to various countries including India. India is one of the largest buyers of Mamra Badam in Iran. The price of this almond in India is high. The people of this country are very interested in consuming almonds and are well aware of their unique properties.
Mamra Badam is being exported in various classes to other countries such as Turkey, Russia, Arab countries, Persian Gulf and European countries. The price of Mamra Badam also differs depending on the quality and percentage of the nuts.Let's take a glance of Zarin Maghz Company's site, price of the product differs according to its quality The higher the percentage of nuts and the better the taste of the almonds, the higher the price.The price of skinned almonds also depends on the amount of nuts.
One of the most important properties of Mamra Badam is the percentage of nuts. And high fat also has its unique properties that have made its exports prosperous. Mamra Badam has a hard shell and a clear core. The origin of Mamra Badam is in Iran and is mainly grown in the province of Chaharmahal Bakhtiari. Mamra Badam's kernel is one of the high quality products made in Iran and mainly exported.
Mamra Badam is one of the types of tree almonds produced in Iran. Mamra Badam is one of the late blooming varieties, but its fruits ripen early. This type of almond has a very hard woody skin and is difficult to break, so it is mostly broken and used for export in the form of almond kernels. For more information on the Mamra Badam price please visit our website.
mamra almond best type in 2021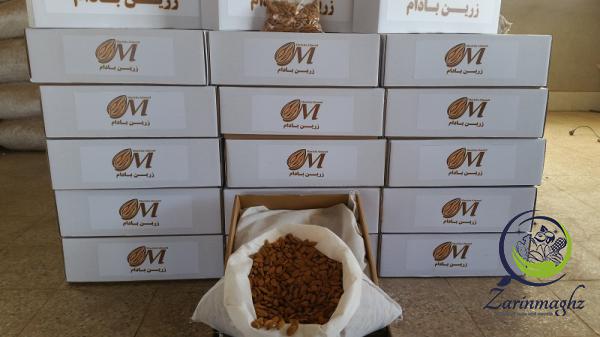 Zarin Maghz makes enduare to make sure about its costomer's satisfaction of mamra's quality , therefor the company chodes the best seeds and seedlings of the product and maintains its brand's reputation.