mamra badam market share in Asia
mamra badam market share in Asia
Mamra badam market share in Asia is the competition between 6 countries. Marketing is so important for Mamra almonds producers and suppliers in the Asia.  Supplying Mamra Badam, both imported and exported, and even in domestic consumption, is not an easy task and requires skills in recognizing high quality mamra almonds,here in Zarin Maghz Company  we are proud to have skilled experts in this field in our collection.
What is the grade of Mamra Badam?
The benefits of almonds have been known for millennia. Numerous scientific studies have now confirmed them. Consuming a handful of almonds a day is a real boost in maintaining your health and keeping your figure. Why? What makes the almond so special?
What do we find in almonds? Lipids, already: "The lipids contained in almonds are Omega 9, the same as those found in olive oil", explains Dr. Laurence Plumey, nutritionist doctor and author of the book Sucre, fat and salt: what our food really contains (Eyrolles editions). These monounsaturated fatty acids are very good fats, recognized for their protective properties of the cardiovascular system.
Another important nutritional element: vitamin E. "It is one of the three anti-oxidant vitamins," says Dr Plumey. "About 20 almonds provide 60 to 70% of an adult's daily requirement for vitamin E." In fact, it is the oilseed that contains the most! Vitamin E is essential for limiting oxidative stress, which is responsible for the premature aging of our cells.
Almonds are also rich in fiber (4g per 28g serving), which "promote intestinal transit". "More than 1 in 3 French people suffer from too slow transit. Adding fiber to the diet is therefore important", explains the nutritionist doctor.
Good news for vegetarians and vegans: Almonds contain protein (6g per serving). This contribution is interesting, provided it is supplemented with dried vegetables
mamra badam market share in 2021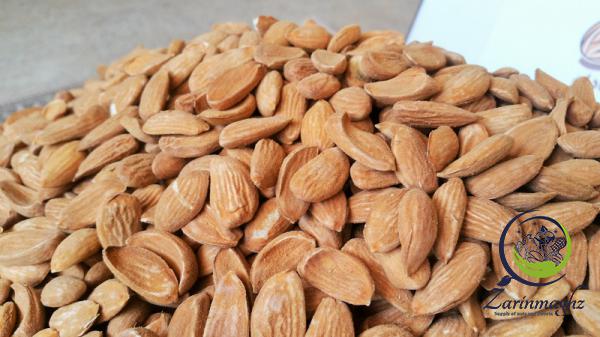 Zarrin Maghz Company has a share of 5.07% market share in the world. Also the place of Iran and Zarrin Maghz company in the world for exporting mamra almonds is so good. Annual, nearly 5176 tonnes of almonds exporting is from Iran. But all of this share is for High quality Mamra almonds not just almonds. Our company produces the highest quality and sell in bulk to the world. you can choose the type and amount of almond you want. we will call you soon. Almond Kernels have higher prices. But they are more efficient for bakery and mixed nuts. So we can help you in this way.